Just Beach Inn
216 NE 54th Street
Pat and I had always dreamed of a vacation beach house, we never really thought it would ever become a reality! We were going to buy property to rent out and then it hit us like a ton of bricks. We decided how about if we get a place close to the beach where we our family and friends could come stay and see us at the same time? Then we began the very tough journey of finding the perfect place.
Well we found the Location, Location, Location, wow were we lucky someone was watching over us! So then the hard work and fun began at making this a Comfy, Cozy Beach house that made people want to stay here. Then came the perfect name JUST BEACH INN.
We invite you to come explore on 47th St is a park for kids, take a right out of our driveway at the end of our street and then left is a Butterfly park and the inter coastal waterway where there is a gazebo to have a lunch & fish off the pier. At the end of our Street to the left is all the amenities you could ask for and 2 more blocks to the right is the wonderful Oak Island Beach!
Meet The Owners
Rosemarie Huffer & Patrick Palmer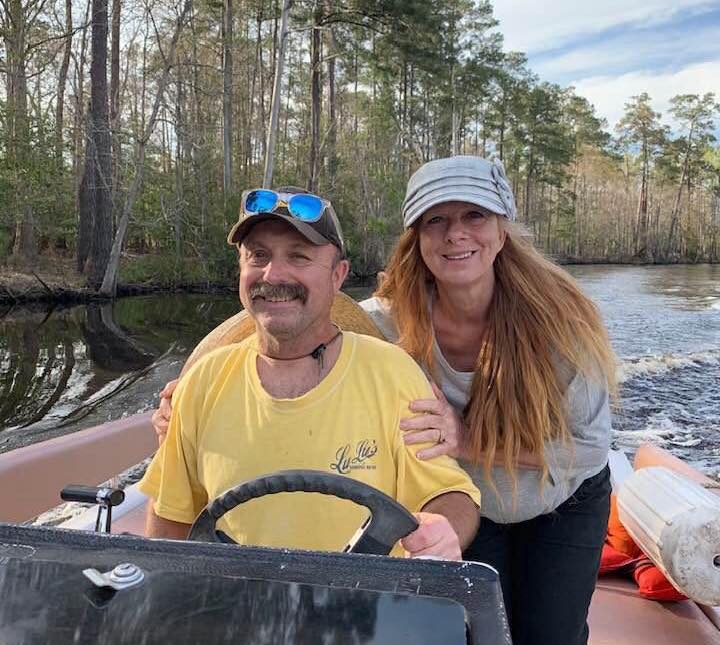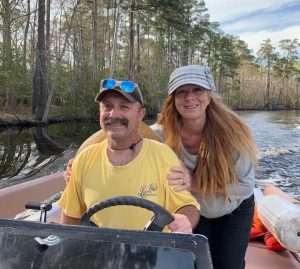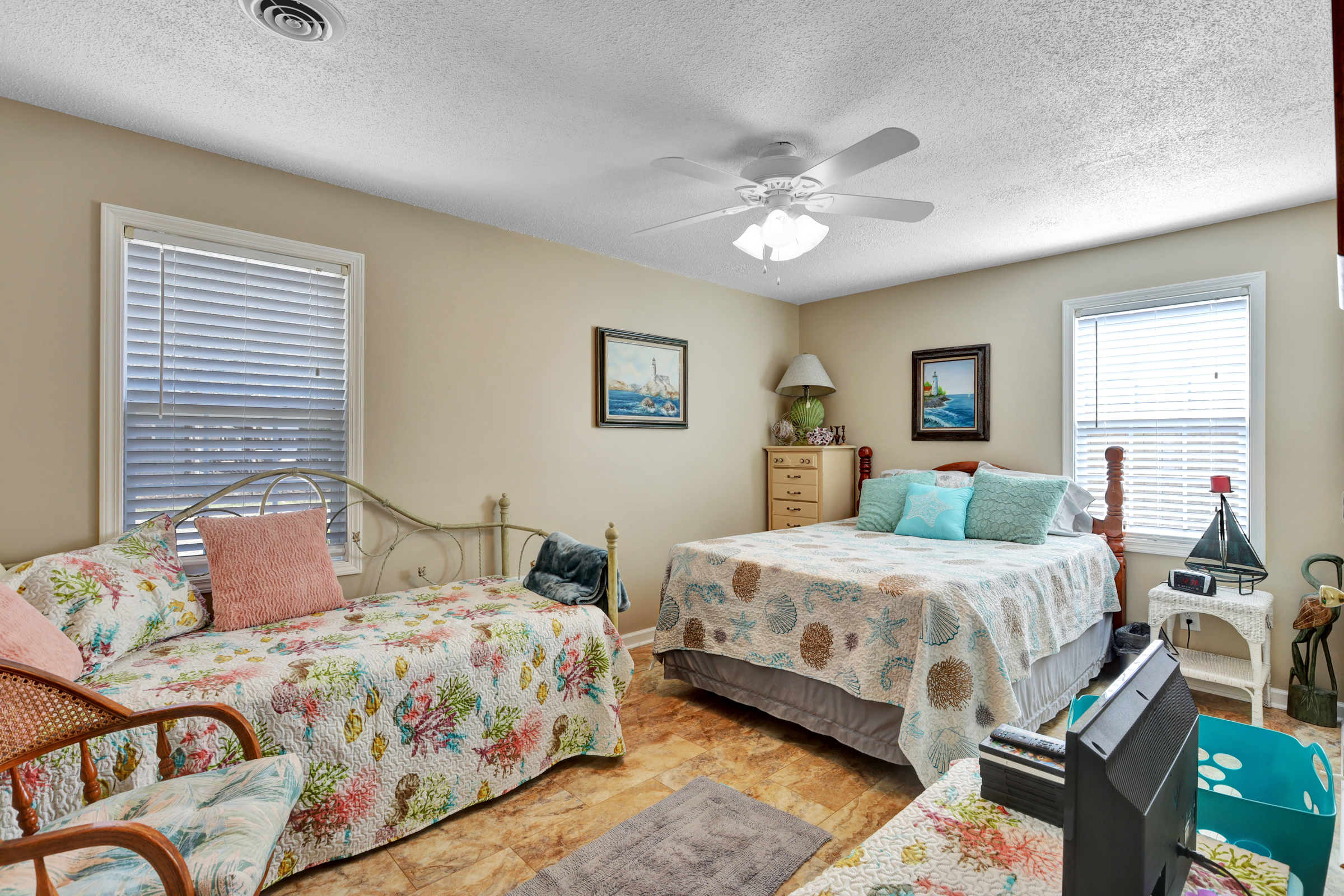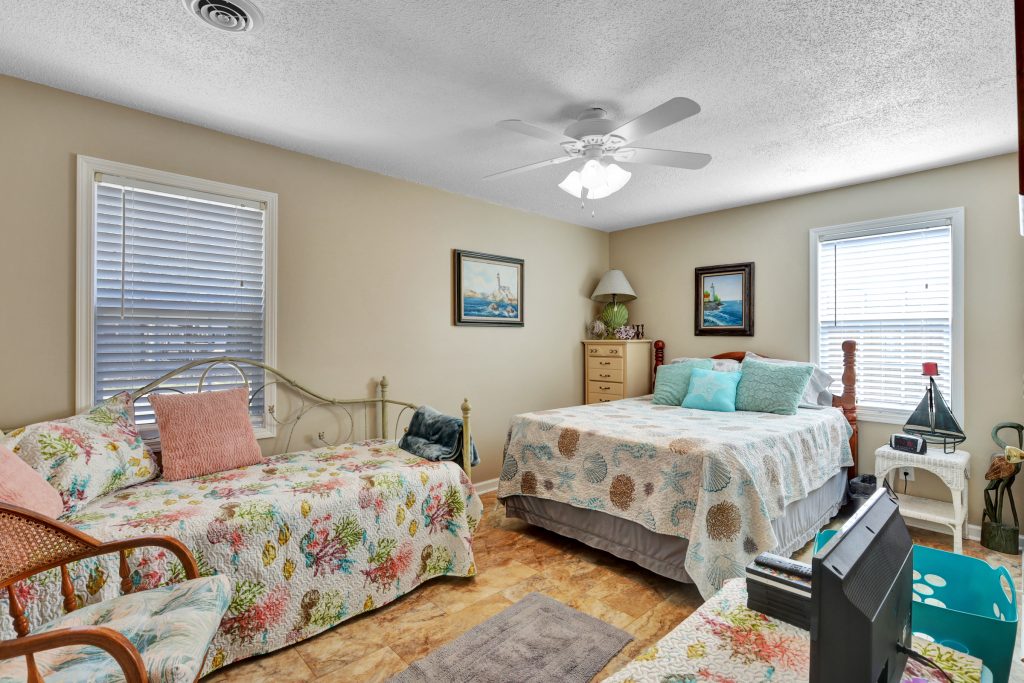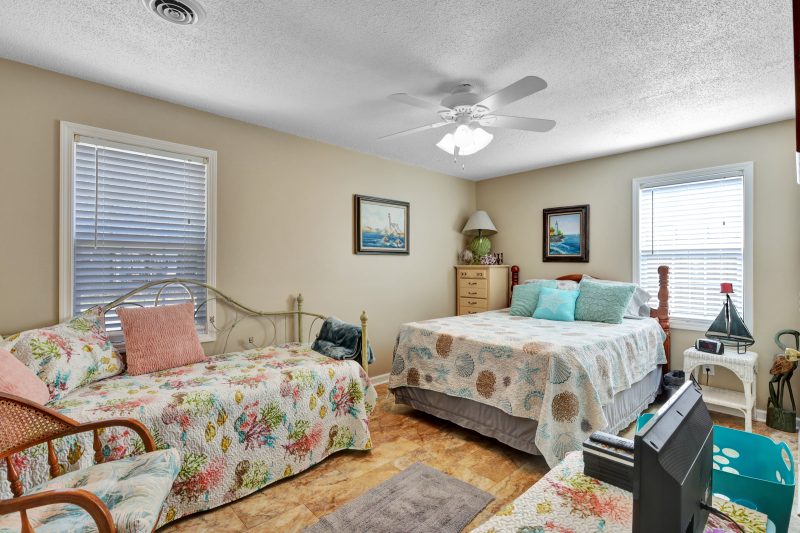 Guest Room #1
This is The Green Room. It has a queen bed along with a trundle bed that can be made as 2 single beds or snap into a queen. This is a great room for a family that wants the kiddies with them. We have provided a DVD player so the kids can have a night time movie away from the main area.
Welcome to Oak Island
Tucked into the southeast corner of North Carolina, Oak Island is just 30 minutes from Wilmington and about an hour from Myrtle Beach.
There's a relaxed, small town vibe in this island town. The local restaurants are wonderful, the pristine beaches aren't overcrowded and there is much to see and do. On Oak Island, the water is always the center of attention with more than 60 public beach-access points, 2 fishing piers, 2 marinas and 3 public boat and canoe ramps. So whether you like to fish, surf, sunbathe, kayak, boat or just curl up and read a novel, we think you'll love it here.
Here are some links to learn more about Oak Island:
Town Of Oak Island
Town Of Southport
Oak Island Restaurants
Drive to Breath Easy from Oak Island Drive
Bald Head Island
North Carolina Aquarium
Videos
For best viewing, click the gear icon above (settings), choose Quality and set to 1080p.
OUR RENTERS SAY
The best part of Just Beach Inn is all the fun memories with friends and family that are created here. Here's what our renters have to say: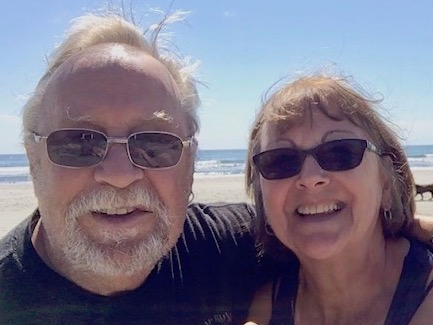 Our stay on Oak Island was absolutely wonderful. It is in a great area with a park with two docks for fishing just a few blocks away and in the other direction is the beach.
When you walk in the door you are greeted with such a peaceful ambiance that makes you feel you are right on the beach.
The kitchen has everything you need should you to choose to cook with many extras provided.
There are also so many restaurants to choose from, whatever you are craving you will find it. Don't miss having a meal at the Fish House.
There is a starter of necessaries like paper towel, toilet tissue etc. When you run out it is just a quick trip to the grocery.
You will find chairs and beach items for your use and a very nice outside shower for your return from the beach.
The owners are readily available if you have any questions. They have gone over and above to provide you with all that will make your stay a lasting memory.
From sunrise to sunset our stay was the best beach vacation we have taken.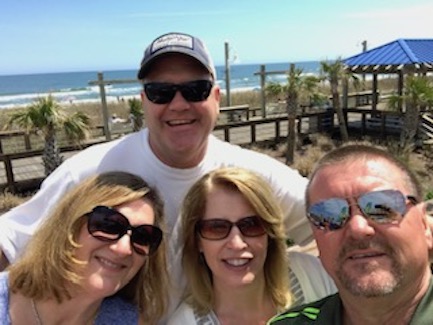 What more could you want in a house? Rose and Pat did a great job on the remodel of the house. Everything you could possibly need is in this house. It's about four blocks away from the beach (within walking distance or take the four person golf cart with a cooler). We enjoyed being able to sit at the table to play games or be outside with drinks. The restaurants on the island are fantastic. If you are looking for a great beach house and laid back island vacation this is a must.
Stacey, Trent, Lisa & Tom
Rose and Pat were the best house hosts! The house was completely stocked and perfect for our family of 4! We love OKI and Southport and have made many memories at the beach. The weather has been absolutely perfect for us this week. Can't wait to come back next year!
We can't thank you enough for the enjoyment we've had here at Just Beach Inn. You are 2 beautiful people who graciously gave us a place to stay short term. We have thoroughly enjoyed this home and hate to leave here! I will tell friends about how friendly and nice this place is and highly recommend contacting you for future stays.
CALENDAR
Check out our availability.
CONTACT US
Get In Touch With Us Today